Restore your tired, faded or dull paintwork. Bring it back to life with Flash Vacs paintwork correction
This process involves removal of all waxes and polishes as well as all surface contiminents such as brake dust, traffic film, bird lime marks, tar spots and industrial fall-out. These contaminents leave the paintwork feeling rough and looking dull. Your paint may also suffer from swirl marks and light scuffs and minor scratches. Paintwork can also appear to become oxidised over time due to UV light that causes loss of paint pigment.
You may not realise that over time your paintwork has faded and poor washing techniques have caused swirl, hologram and trail marks.
Below are images of our most recent paint correction. A 2005 Panther Black Vauxhall Astra. This car had surface scratches and heavy swirl marks caused by, we suspect car wash brushes. The level of scratch removal is apparent by comparing the 2 images of the bonnet, the third picture is the finished result.
The image below (2004 Ford Mondeo) shows before (left) and after (right). Notice the surface swirl marks and light scratches have been removed.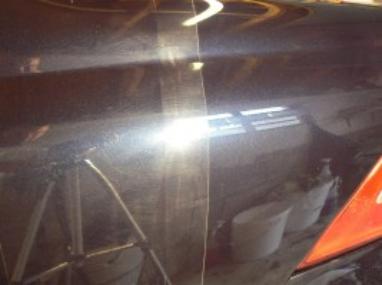 All these issues can be cured with paintwork correction by Flash Vacs. Every panel will be clay barred, machine buffed and treated with paintwork renovating chemicals to restore and revive the original paint colour. Wax and polish will then be applied - Your car will look like new - Guaranteed.
A full portfolio of this procedure is available upon request
The images below show heavily oxidised paint on a 1998 registered vehicle before and after paint correction (click the thumbnail to view larger image)
Flash Vacs wll bring your tired, oxidised paintwork back to life! Please contact us for a free quote and friendly advice.